A Special Edition of the Thematic Series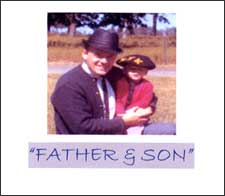 A delightful interview with Michael's father, David Purvis, focusing on the relationship between fathers and sons through reminiscence, readings & singing of beloved old songs. Join Michael and his Dad as they reminisce about Fathers and Sons, heroes, war-time, and sing many beloved songs together.
Perfect to listen to
on Father's Day or any day!

Contents/Song List

Down by the Old Mill Stream
Avalon
You Made Me Love You
America (My Country 'Tis of Thee)
When Johnny Comes Marching Home
The Yankee Doodle Boy
The Yellow Rose of Texas
Aura Lee
Oh My Darling Clementine
Home on the Range
Till We Meet Again
Smiles
Goodnight Ladies

Original Works By Michael D. Purvis

Father & Son (Original Poem)
Song For Papa and Cotton (Original Song)
A Thousand Mornings Shall Come (Original Poem)

Original Works By David L. Purvis

King of the Cowboys (Selection from Unpublished Novel)
Life Around Us (Original Poem)
Tipton Park (Original Poem)