Contents/Song List
Introduction
Body of the book
Original Introductory Music
Six Poems
An original musical interlude
Six Poems
Color Plates
Artwork of Spirit and Humanity by Michael D. Purvis
An original musical interlude
Eight Poems
Original closing music

Appendix
A Listing of
Abundant Change Books and Recordings
Music-Outreach Nostalgic & Uplifting Books & Recordings
Published by Music-Outreach Publishing
Here is an example of the sort of artwork you will find
in the forty page color art print section of
Poems of Spirit and Humanity: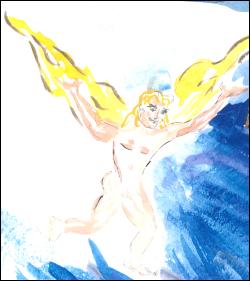 (c) 2003, Michael D. Purvis
Excerpts from the Book

Angels Dance 'Round Us
angels dance 'round us
with quiet feet
we cannot hear their movement
though sometimes there is a small audible sigh
sometimes
we feel their frustration
sense their amused little stare
angels dance 'round us
as we are carried on God's shoulders
which are very wide
perched atop them as he moves
we feel the cosmos spin
and want to dance with God and the angels
but we are clumsy
we are like the Tin Man
in need of oil-
a rusty machine-man
which has forgotten how to run
and all around us
the angels whirl!-
pushing and pulling our feet up and down
as we try to get the steps
feel the beat
and the joy
and
just when they are ready to give up
falling down all around us
winded, exasperated
weary of pushing and pulling our feet:
we get it!
we dance!
dance the joyful dance
to the music of earth, heavens, stars and spheres
dance to the pulsation of life-
finally
we move freely
we are quickened
dancing the dance of joy
and finally expelling fear
we dance the dance of love
of life!
____________________________________
On Change
"How true the old saying,
'Yield and you need not break'!
How completely it comes home!"
-Lao Tzu
Once,
I heard someone observe
that human beings are by nature uncomfortable with life,
that we are not at ease with our journey.
My father used to say,
"Life bloodies us,"
and then quote the poet:
"'Life ain't no crystal stair', son."
Today,
thumbing through yellowed pages,
I found Lao Tzu's ancient words,
And found them full of wisdom:
"Yield and you need not break:
Bent you can straighten,
Empty you can mend; …"
I thought then of Jesus,
sitting on a hillside long ago
with his flock, his lambs,
saying-
"Consider the lilies of the field…"
Fathers, poets, philosophers and God's Son-
All with wisdom for God's children.
Change?
We must.
Worry?
We are bound to, at least a little-
But we try to follow the advice of sages, of God:
Bend, yield,
search for Divinity and heal…
We must ever remain a green twig,
Green inside, no matter our age in years
(time being an illusion, I suspect more and more).
We must be molded and shaped,
By God, by fate-
It is bend or break.
And if we break, for lack of bending,
having become rigid, dry, unbending-
we must heal, take time to become green again inside.
Change is our lot.
And when we join in our bending with others and with God,
in a dance of green twigs,
intertwining, weaving our lives together, our spirits-
we make beautiful baskets!
baskets in which others, wearied and broken, are carried,
baskets in which gifts are given,
baskets which are both gift and giver.
We carry others that they might rest, and be healed-
and sometimes
we too are carried.
(c) 2003, Michael D. Purvis