Singalong with Michael Series
for Individual Listening Vol. 2
Now in Two Different Formats!
Just the Songs
Contains Only Michael Performing the Songs
Cheer Them Up
Contains Michael Performing the Songs Along with Conversation Between Each Song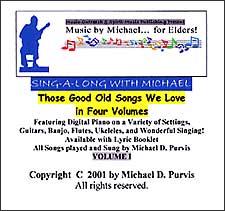 Sing-a-long with Michael Recordings feature songs your residents know and love, played on many different instruments, in clear, uniquely appealing recordings which draw your residents in and make them want to sing along!!! More beloved popular, folk and patriotic songs your residents will love to sing. As always, Michael accompanies the songs on digital piano, guitars, banjo, and recorders and leads the songs with his beautiful clear voice.
Available Now in Downloadable
Book and CD Formats
Song List

Alexanders Ragtime Band
Hello! My Baby
After You've Gone
Bill Bailey, Won't You Please Come Home?
You're a Grand Old Flag
America
The Star Spangled Banner
Home on the Range
Old Folks at Home
Polly Wolly Doodle

Clementine
Drink to Me Only With Thine Eyes
Come, Hosephine in My Flying Machine
For Me and My Gal
Avalon
Aloha Oe
Carolina in the Morning
Give My Regards to Broadway