A letter from the artist: Michael D. Purvis, BME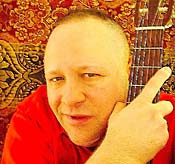 Dear Friends,
Music Outreach is an extension of my live musical outreach throughout Indianapolis and its surrounding areas. During my years working with the elderly, I have performed over five-thousand musical programs for elder populations including: Healthcare, Alzheimer's, Assisted Living, and Independent Living.
While at each facility, I perform a program which features my singing and playing of guitar, banjitar, ukes, mandolin, recorder and piano. Each time I visit a facility, I present an inspirational theme, wrapping songs, stories, and poems around that theme. I present groupings of beloved music featuring various instruments, play "name the tune," present inspirational fare, and finish with fun, good-bye oldies. I have been doing this for nearly a decade, and love it very much.
The response from Activity Directors and residents has been so positive that I am now sharing my original downloadable books, recordings and videos through this, my website, Music-Outreach.com.
It is my sincere hope that these materials will be of use to any person who has a beloved elder in their life, works with elders, or cares for elders. Activity directors, leisure service directors, social workers, pastors, nurses, aides, elder companions, those visiting shut-ins, adult children with elderly parents and grandparents... all of these should find my materials most useful in cheering and uplifting elders.


AVAILABLE FROM
MUSIC-OUTREACH
My goal is to bring love, joy and healing to the elderly... not profit. Accordingly, I have tried to put a price on each downloadable book, recording or video file that is as low as possible. There are, of course, many expenses involved with this Outreach. Know, please, that your contribution, in the form of fees paid for downloading, helps me to continue my work on behalf of the elderly and those who serve them.
It is my wish that the important work you are doing with the elders you love and serve will be enriched and enhanced through the use of these materials. It is my further desire that you would feel a sense of fulfillment in your dealings with these dear souls who have so much wisdom and worth, so much to teach us. If my creations can do the above, I will feel most gratified and thankful.
I am knowing peace for you, and sending you good thoughts.
Thank you for your support of Music-Outreach!
Your friend,
-Michael